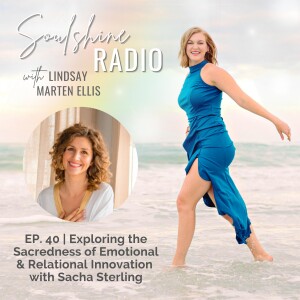 Monday May 08, 2023
Exploring the Sacredness of Emotional & Relational Innovation with Sacha Sterling
I am so excited to share with you the magic and the medicine of truly one of my favorite humans on the planet, Sacha Sterling. Sacha is a master empowerment coach, serial entrepreneur, women's advocate, and most importantly - a mother, daughter, sister, and friend.
In this deep dive we organically flow into all of the corners and crevices of Creation, through how we relate to Self and Other. And of course a deeper remembrance of the subtleties that our emotions are constantly communicating to us… Plus how to harness the power of our emotions as a tool for quantum transformation, meaningful connection, and beyond.
About Sacha: 
As a natural investigator whose baseline is joy (at least a lot of the time), for the last 20 years I've poured my energy and focus into the exploration of human consciousness, emotional and relational innovation and most of all, Love in Action!
My favorite things to dive into and experience in real time with like-hearted people are self actualization, self expression, the wisdom of emotions, spiritual awakening and the power of intimacy and authentic human connection.
Connect with Sacha: 
Comments
(0)
To leave or reply to comments, please download free Podbean or