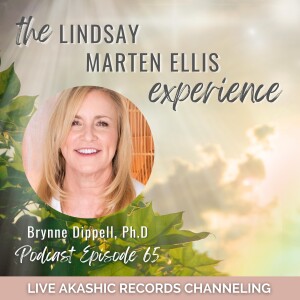 Monday Oct 30, 2023
Live Akashic Records Channeling Session with Brynne Dippell, Ph.D | Ep. 65
In today's episode, we peel back the curtain even more with an intimate, vulnerable live Akashic Records Channeling Session with the beautiful ray of Divine light that is Brynne Dippell, Ph.D!
We also hear from Brynne about how she stepped into soul work, which includes the loss of her Father and why she decided to walk away from her decade-long psychology career.
In addition, Brynne shares what the Akashic Records are, how the Records can support and uplift humanity, and she explains her process to access the Akashia.
If you want to delve deeper, Brynne is now offering her signature Akashic Records Level 1: Introduction to the Akashic Records course. The Level 1 course is a beautiful initiation into accessing the Akashic Records for yourself and others. If your soul is longing to connect with the Divine wisdom of the Akashic Records, please visit her website at www.brynnedippell.com/ARLevel1.
About Brynne: 
Brynne is an Akashic Records Master Healer/Teacher, Energy Healer, and former psychologist. Having practiced as a psychologist for 10 years before her spiritual awakening, Brynne brings a deeply loving and grounded approach to the Akashic Records. As a Divine channel, Brynne's calling is to help people discover the love that is their true essence and find their soul's Divine purpose through the Records.
Connect with Brynne: 
Comments
(0)
To leave or reply to comments, please download free Podbean or